Our 2000 Trip to Montana For Karin's Wedding Page 3
Back to Jon Vermilye's Photo & Trip Page
Other Trips:
---
July 27, 2000 (378 miles)
---
Today was another day of nothing much other than making miles towards Montana. We continued on US 12, which combined with US 20 near Gary, IN. From there we continued west on US 20 with a short detour north on US 61 to make a stop for the night at the Rustic Barn Campground in Kieler, WI. This was a beautiful campground, complete with a rustic barn, a small chapel and great views of the area farms. The only thing we missed was a picnic table, but there was one not too far away that "snuck" into our site.
Our plan is to stop at Dickeyville, WI tomorrow, which isn't too far from Kieler, and since we had stopped at the Dickeyville Grotto on a previous trip, we want to see it again & take some photographs.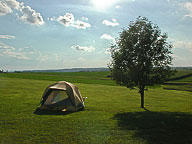 Rustic Barn Campsite
---
This page is maintained by: vermilye@oswego.edu
Last Update: March 20, 2012