2014 Trip Across the US & Canada
Day 133
2011 Trip across the US
2012 Trip across the US
Other Trips
Wednesday, February 19, 2014, Imperial Dam BLM, CA, Day 10 - 0 miles, 5008 For the Trip
Another day of not doing much. I got bored of reading, walking, and my other usual activities, so I decided I needed a head of lettuce. That makes sense, doesn't it? I did forget it when shopping yesterday (the excuse - it wasn't on the list!) So, first I tried the store at Hidden Shores Campground. Hidden Shores is a commercial campground on BLM land that is typical of area commercial campgrounds - barely room to get the slide out on your 45' motorhome. The store does have more than your typical campground store, but nothing in the way of fresh vegetables.
On the other hand, they are having a car show, and I'm old enough to appreciate seeing cars that I can remember when they were new with a "Historic Plate" on them. My favorite was the 120 Packard. Along with the cars was a lawn mower that shows what happens when a mechanically minded person has too much time on his or her hands. He switched the Kohler engine for a 66 horsepower gas turbine. It was well done - looks like the turbine belongs there, although the exhaust stack coming out the front is a clue something isn't stock. It is also just a tad louder than the standard engine.
They also had an inexpensive lunch & some sky divers. I never saw them jump, but did get a photo of the airplane:
Car Show

Car Show

Car Show

Car Show

My Favorite

Car Show

Fancy Golf Cart

Lunch Line

Gas Turbine Lawnmower

Jump Airplane
After all the excitement, I headed down AZ 95 for a farm market, and picked up a head of lettuce & some broccoli.
Back at the campground, I discovered Anne, whose Escape 17 parked next to mine at the Quartzsite gathering parked in the same general area here at Imperial Dam. She has a website called Right Brain; Right Lane. We chatted a bit, and I told her about the burros that I hear most nights, but never see in the campground. Of course, they had to prove me wrong - about a half hour later 4 of them trotted through the flats below us.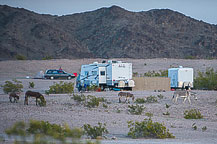 Four Burros
Dinner was a grilled chicken sandwich (with the special trip lettuce & tomato, of course) and the rest of the asparagus.
Until tomorrow -
---
This page is maintained by: vermilye@oswego.edu
Last Update: April 17, 2014