2014 Trip Across the US & Canada
Day 179
2011 Trip across the US
2012 Trip across the US
Other Trips
Sunday, April 6, 2014, Dos Reis Regional Park, Lathrop, CA, - 124.5 miles , 6822.5 For the Trip
After reading the Sunday paper, it was time to head north again. I continued up CA99, which is pretty much a Freeway with lots of traffic, 4 lanes each way, etc. I'm set up for the night in site 21, at Dos Reis Regional Park. Small, about 36 sites, paved roads & sites, full hookups, and all for $25.00. While the park is pretty (although most of the back in sites are fairly small), the showers are interesting - all in one room sink, toilet & shower. The shower is huge, but the shower head is directly overhead aimed down from 8' above. While the shower was clean, I can't say the same for the rest of the bathroom. It was crowded, with many picnickers using all the bathrooms, so maybe they had difficulty keeping up.
A disaster - my Kelysus folding chair with built in sunshade bit the dust. The fabric on the back section ripped away from the upright support in a way that can't be repaired. I looked up the chair on the internet, they said they are sold at Target, and there is one 2 miles from the campground. So, I unhooked the trailer (I was going to stay attached for the night) and drove to Target. Of course they had all kinds of folding chairs, but not the Kelysus. I have another one at home in NY, but that won't do me much good for the rest of the trip. I'll have to settle for one of my "Company" chairs (without sunshades).
As long as I'm whining, I have to bring up one of my complaints about fellow campers. Why do so many of them insist on burning their garbage in the fire pits? There is a dumpster less than 100' away but the smell of burning garbage wafts across the campground. It isn't only here; seems to be pretty standard practice. I don't mind the smell of burning wood (I heated my house with it since 1975), but burning garbage stinks! OK, I'm done.
No photos today other than the site: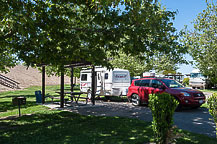 Dinner was a pork chop, peaches, and the last of my Cape Cod Waffle Cut Potato Chips. Going to miss them since I haven't seen them in any stores since Arizona.
Until tomorrow -
---
This page is maintained by: vermilye@oswego.edu
Last Update: April 7, 2014