2014 Trip Across the US & Canada
Day 187
2011 Trip across the US
2012 Trip across the US
Other Trips
Monday, April 14, 2014, Bullards Beach State Park, OR, Day 3 & Cape Blanco Lighthouse - 0 miles, 7354.3 For the Trip
A little warmer last night, but unfortunately, because clouds & fog moved in. I'm still hoping I'll be able to photograph the eclipse tonight, however right not it doesn't look good. I did drive to the Bandon Park that overlooks some interesting rocks in the Pacific. Didn't walk down to the beach since it was still high tide, but if the sun comes out I'll go back after dinner.
| | |
| --- | --- |
| | |
| Bandon Beach | Bandon Beach |
I did drive south to Cape Blanco State Park to see the lighthouse even though it wasn't the greatest sky for photographs. I thought about stopping on the way north when I was on my way to Bullards Beach State Park, but wanted to arrive as early as possible at the campground since it was a Saturday, and I wanted to be sure I could get a site. Of course, there was no problem with finding a site, but it is just as well that I didn't stop - the road to the lighthouse is very rough, and, at least at the lighthouse end, one lane and no trailer parking. I stopped on the way to the lighthouse to tour the Huges House, a well preserved early ranch house built in 1898.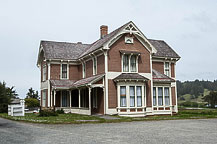 Hughes House
A great bunch of volunteers at the lighthouse. We talked about the lighthouses along the coast, and I showed them photos of Oswego's lighthouse covered with waves. Took the tour to the top & checked out the Fresnel lens. It is one of the few still working lighthouses on the coast (and, for that matter, anywhere - the Coast Guard has closed most of them throughout the country since the advent of the GPS for navigation). There is still something reassuring about Lighthouses even if they are not as necessary as in the past.
| | | | |
| --- | --- | --- | --- |
| | | | |
| Cape Blanco Lighthouse | The Fresnel Lens | The Motor That Spins the Light | The Staircase |
| | | | |
| Cape Blanco Lighthouse | | | |
I had a late lunch of fish tacos at the crab shack in downtown Bandon - OK, but I've had better. Dinner will probably be a snack of some sort.
Until Tomorrow -
---
This page is maintained by: vermilye@oswego.edu
Last Update: August 13, 2014