2014 Trip Across the US & Canada
Day 204
2011 Trip across the US
2012 Trip across the US
Other Trips
Thursday, May 1, 2014, The Narrows RV Park, OR - 154 miles, 7873.8 For the Trip
I was up early, but somehow didn't get out of the campground until 9:30. Another nice day with temperatures in the mid 70's, although more clouds than yesterday. A long drive through the high desert. Kind of boring, but lots of wide, open spaces. I stopped for coffee at the town of Brothers, which is mostly a Cafe. Very nice people - they made a entire fresh pot of decaf for my one cup.
I turned south at Burns on OR 205 and am in site 13 at The Narrows RV Park. While on gravel, it is full hookups for $23,64 with my Good Sam's discount. Very clean park & restrooms - individual rooms with shower, however be warned - a shower is $2.50 for 5 minutes! There is a restaurant in the park; I'll probably hit it for breakfast. They also have a laundry - $1.50 for wash & dry. It was definitely time - did two loads. The laundry library was disappointing. While there were lots of books, they were all bodice ripping romance novels!
The only photo for the day is the campsite: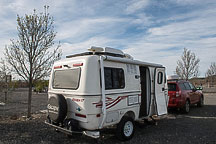 Site 13, The Narrows RV Park, Princeton, OR
Dinner was a cheeseburger, corn on the cob, and some Cape Cod Waffle cut chips. You can tell I bought them at 100', and went to open the bag at 4124'. It was blown up like a balloon, and popped open!
Until Next Time -
---
This page is maintained by: vermilye@oswego.edu
Last Update: May 2, 2014