2014 Trip Across the US & Canada
Day 235
2011 Trip across the US
2012 Trip across the US
Other Trips
Sunday, June 1, 2014, Wenatchee River County Park, Monitor, WA - 85 miles, 9331.4 For the Trip
Not to bad a drive West on US 2 & south on US 97. I'm in site 47 at the Wenachee River County Park. It had been recommended by a follower of my web page, and they are right - it is a pretty park. They suggested asking for a river side site, however they were all filled. I'm in the middle of the campground in a water & electric site for $25.00 per night. While there were a couple of full hookup sites available when I arrives around 12:30, they are near US 97, and noisy. It is a popular campground - by now at 8:30, it is full.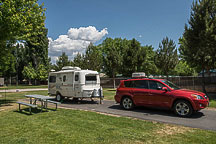 Site 47, Wenatchee River County Park, WA
After setting up the trailer I went to Ohme Gardens. $7.00 to get in, with lots of paths through many plantings. It wasn't quite what I expected in that I was hoping for lots of blooming flowers & it is more a natural flower & plant garden. Still, a nice way to spend a couple of hours walking along the paths, ponds & waterfalls.
Ohme Gardens

Ohme Gardens
After that it was a quick stop at Safeway to pick up some fruit & milk. I checked, and they have blueberries at a half way decent price. If they are still the same & the quality is OK, I'll pick some up to make a pie for the pot luck next weekend. I much prefer blueberry to apple!
After that it was back to the trailer & trying to keep cool. Quite warm - I even put out the awning just to shade the refrigerator wall of the trailer. The thermometer in the propane tanks read 93°F, although it was in the sun. Still, a warm day.
Dinner was the left over half of the grilled chicken breast from yesterday, along with a small salad and the last (boo hoo) of the Cape Cod Crinkle Cut Potato Chips.
Until tomorrow -
---
This page is maintained by: vermilye@oswego.edu
Last Update: June 4, 2014