2014 Trip Across the US & Canada
Day 270
2011 Trip across the US
2012 Trip across the US
Other Trips
Sunday, July 6, 2014, Joseph H. Stewart Campground, OR - 65.5 miles, 12,283.2 For the Trip
A short drive to Joseph H. Stewart Campground. While the last time I was here in 2012 I ended up in site B8, this time I'm in site A10. While a number of sites emptied out during the morning, the campground was full over the weekend. This is a state park with large,open sites, water & electric for $22.00 per night, and bathrooms with showers.
I spent most of the day sitting around reading. I asked a ranger if I could wash the trailer, and because they treat the drinking water, the answer is no. We talked for awhile, then he left. He came back a little later & mentioned that the lawn watering has an untreated faucet just behind my trailer, and I could use that. I think he felt sorry for the layer of bugs on the front of the trailer! So, I finally got to wash (and wax) the trailer. The last time was in Arizona at LaPaz County Campground in January. While not quite as shiny as when new, it looks pretty good for a 3 year old trailer!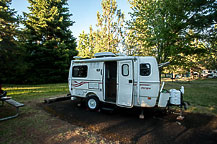 Site A10, Joseph H. Stewart Campground, OR
Dinner was a Bubba burger, fruit cup & chips. This probably won't get posted until I find a better internet site. While I have 3 bars of AT&T on my phone, Verizon is only 1X and while there is data, it is so slow that mail is about all I can do.
I did find an internet connection is Sandy Cove, a town about 15 miles south of the campground. Probably won't post tomorrow since I'm heading in the other direction.
Until tomorrow.
---
This page is maintained by: vermilye@oswego.edu
Last Update: July 7, 2014