2014 Trip Across the US & Canada
Day 278
2011 Trip across the US
2012 Trip across the US
Other Trips
Monday, July 14, 2014, Bullards Beach State Park, Bandon, OR - 36.7 miles, 12,524.9 For the Trip
A short drive down Fairview Road & OR 42s to Bandon. I stopped in town at the laundromat (I was down to my last pair of underwear), then headed to the campground.
It's Bullards Beach all over again. While the last time I was here in mid April I was in the "C" section, I'm now in site A14 with full hookups for a week. Since we are now out of the "Discovery Season", it is a bit more expensive than April - $29.14 per night.
Part of my stay (and the reason for being here) is to attend the Oregon Gathering, a fiberglass trailer rally. There are already a number of early arrivals and we sat around and talked during the afternoon. Only one photo - the campsite image: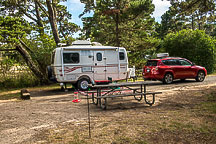 Site A14, Bullards Beach State Park, OR
Since I picked up some fried chicken and macaroni & cheese for a big lunch, dinner will be cheese & crackers.
Until tomorrow.
---
This page is maintained by: vermilye@oswego.edu
Last Update: May 1, 2016