2014 Trip Across the US & Canada
Day 304
2011 Trip across the US
2012 Trip across the US
Other Trips
Saturday, August 9, 2014, Home, Oswego, NY - 12.4 miles, 15,905.6 For the Trip
While the drive was short, today was one of the busiest of the trip. While it is great to be home, the job of unpacking the trailer & RAV4 took most of the day. Hard to believe there was that much stuff in both! I also went through a 3' high stack of mail. While most of it was junk, every once in a while something important came up such as the release of the lien on the RAV4, etc.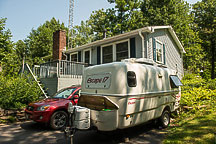 Home in Oswego, NY
I'll have to get used to sleeping in a huge full size bed, a 20' walk to the bathroom, 8' of counter space, etc. While I love living in the trailer, it will be nice not to have to get out & put away everything I use.
Dinner was a trip to Rudys for a shrimp dinner, a fish stand on Lake Ontario a couple of miles from my house.
After things settle down I'll post a wrap up of the trip.
Until then
---
This page is maintained by: vermilye@oswego.edu
Last Update: August 13, 2014