2015 - 2016 Southwest Trip
Day 11
2011 Trip across the US
2012 Trip across the US
2014 Trip across the US
2015 Trip to Alaska
Other Trips
Saturday, October 24, 2015, Clear Springs Campground, Wright Patman Lake, TX, 175.8 Miles, 1823.6 Miles for the Trip
Another wet day. It rained all night, all morning, and all the way to the campground. While a shorter drive than yesterday, it felt longer since all of it was in the rain. I'm in another Army Corps of Engineer's campground, Site E10, a full hookup site for $13.00 with the Senior Passport card. As you can see from the site photo, there are puddles around the site, however, the pad is dry (well, maybe not dry, but not under water like yesterday's pad). The bathrooms are fairly close, and the showers are nice & hot. While clean, the water runs out into the dressing area making getting dressed an interesting dance. The closest town is Texarkana, TX.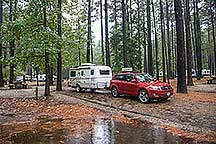 Site E10, Clear Springs COE Campground
Sorry there haven't been anything in the way of interesting photos over the last couple of days, but all I've seen are wet campgrounds so scenic photos are going to have to wait. They may be waiting awhile. While the area really needs the rain, they will be getting it. No sign of clearing until at least Monday, by which time the leftovers of Hurricane Patricia will probably reach me.
Again, this will probably be a "tomorrow" post - while I can read my mail and look at a few RV forums, the connection is too slow to upload pages.
Dinner will be soup cooked inside.
Until Next Time -
---
This page is maintained by: vermilye@oswego.edu
Last Update: October 25, 2015