2015 - 2016 Southwest Trip
Day 14
2011 Trip across the US
2012 Trip across the US
2014 Trip across the US
2015 Trip to Alaska
Other Trips
Tuesday, October 27, 2015, La Vedera RV Park, Lamesa, TX , 245.3 Miles, 2382.2 Miles for the Trip
A much longer drive today. I decided not to wait until the barber shop in Wichata Falls opened, but try for one in Lamesa, my planned stop for the night. Lamesa is spelled as one word on the maps & signs around town - all the others I've seen around the US are La Mesa or LaMesa.
I am in site 105 at the La Vedera RV Park, my first commercial RV park of the trip. Mostly long term RVs, but there are a few open sites close to the office. While it is nice to have full hookups for only $25.00 (with a $5.00 Good Sam discount) there are no bathrooms or showers, a minus since I did find a barber (another Viet Nam vet from my era) so I have lots of fine hairs itching my neck. I'll shower in the trailer after dinner.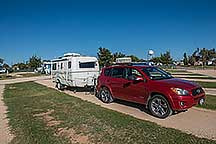 Site 105, La Vedera RV Park, Lamesa, TX
Speaking of dinner, I stopped at Claiborne's Bakery-Deli for some supplies. The fried chicken looked edible, so I ordered two legs & two thighs. I guess the deli operator couldn't tell the difference between thighs & breasts - I got two breasts, a good deal at thigh prices, but since I prefer dark meat, not so good for me. Of course I didn't discover the mistake until I was back at the trailer.
It is quite warm - 85°F around 2:30. I suspect it will cool off tonight since I spent the day gaining altitude (now at almost 3000'). Also drove into a 25 MPH headwind; the combination dropped my MPG average .2. I'm now down to 13.5. I miss my previous 15MPG average!
A late addition - if you stay here, be sure to pick up a excellent breakfast burrito at the campground office/store. I had a choice of bacon or sausage, $1.99 for a large burrito stuffed with bacon, cheese & scrambled eggs. You probably only need one - a least twice the size of a McDonalds Breakfast Burrito...
Until Next Time -
---
This page is maintained by: vermilye@oswego.edu
Last Update: October 29, 2015