2015 - 2016 Southwest Trip
Day 21
2011 Trip across the US
2012 Trip across the US
2014 Trip across the US
2015 Trip to Alaska
Other Trips
Tuesday, November 3, 2015, Rockhound State Park, NM, Day 2, 0 Miles, 2,916.9 Miles for the Trip
A nice, warm night last night, 50°F. I did go for a long walk around the campground before breakfast, but that was about it for the day. Today is the rollover day for my Verizon Internet service. I used 17GB over the last 30 days. That includes downloading a map update for my Garmin, about 2.5GB.
We did have some clouds today. I took a photo just to prove that it isn't always clear blue skies. According to the radio, chances are good for rain tonight as well as tomorrow.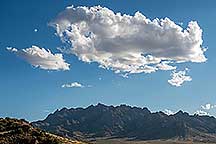 Clouds Over the Campground
Dinner was a turkey burger, chips, and a cup of peaches. I never found Bubba turkey burgers, so I ended up with Jennie-O's. Not too bad, but a bit dry.
Until Next Time -
---
This page is maintained by: vermilye@oswego.edu
Last Update: November 4, 2015