2015 - 2016 Southwest Trip
Day 33
2011 Trip across the US
2012 Trip across the US
2014 Trip across the US
2015 Trip to Alaska
Other Trips
Sunday, November 15, 2015, Destiny Phoenix RV Resort, Goodyear, AZ, 85.8 Miles, 3,464.8 Miles for the Trip
A light rain last night & this morning, but it took a break while broke camp & I hooked up the trailer. I've had a change of plans - rather than heading directly to either Yuma or Quartzsite, I'm in Goodyear, about 11 miles from the nearest Toyota dealer. I decided to get what ever is lighting up the 4 wheel drive & anti skid icons fixed before I end up in the middle of nowhere. I have a 9:00AM appointment tomorrow at Avondale Toyota. Hope it is something simple & they have the parts. Destiny Phoenix is expensive - $44.42 with a Good Sam discount. Full hookups; I'm in site 263. I have my own orange tree (not ripe yet) and a picnic table, however I doubt I'll be able to use the table - it is raining again.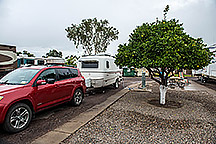 Site 263, Destiny Phoenix RV Resort, Goodyear, AZ
It is still raining off & on, with predictions for more tonight, and fairly cool; currently 59°F. I made a run between rain bursts to the activities room where they have a large paperback & hard cover book library. I traded a couple of books; I'm now completely out of "read" books...
Dinner was a couple of burritos cooked in the trailer during the rain.
Until Tomorrow -
---
This page is maintained by: vermilye@oswego.edu
Last Update: November 16, 2015