2015 - 2016 Southwest Trip
Day 43
2011 Trip across the US
2012 Trip across the US
2014 Trip across the US
2015 Trip to Alaska
Other Trips
Wednesday, November 25, 2015, La Posa West LTVA, Quartzsite, AZ, Day 9, 0 Miles, 3,585.9 Miles for the Trip
A bit of wind overnight, but the temperatures were so warm the furnace never came on. This morning the wind was bouncing the trailer around. I forgot what dust is like during windy conditions at Quartzsite. The mountains surrounding the area disappeared. As the wind died down towards the end of the day, they slowly reappeared on the horizon.
I drove into Quartzsite to refill my empty propane tank. Much cheaper here than the last fill in Texas - $17.50 in Texas vs $11.51 here for just under 5 gallons. After that I checked out a couple more junk sales, then dropped off the propane tank & headed to Blythe to see if I could get a pressure test. I did, and it is a bit higher than the last check. I'll call my NY doctor to see if he thinks I should do something about it. I won't be able to do that until at least Friday since by the time I had my test it was already after 5:00 in NY.
I tried sitting outside reading, even put on a sweatshirt with a hood to deal with the wind, but finally gave up & headed inside. I did take a couple of photos of the sunset & a panorama of the campground: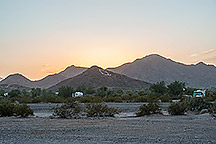 Sunset

La Posa West Panorama
Dinner was a couple of cheese brats, and home style baked beans.
Until Tomorrow -
---
This page is maintained by: vermilye@oswego.edu
Last Update: November 26, 2015