2015 - 2016 Southwest Trip
Day 74
2011 Trip across the US
2012 Trip across the US
2014 Trip across the US
2015 Trip to Alaska
Other Trips
Saturday, December 26, 2015, La Posa West LTVA, Quartzsite, AZ, Day 38, 0 Miles, 4,046.3 Miles for the Trip
I'm getting tired of saying "another cool night", but it was. A cool & windy morning; the furnace is still cycling on (set at 58°F) at 10:30AM. The wind is blowing dust clouds across the campground, rocking the trailer, even blowing over the solar panel; all together an unpleasant morning.
It didn't get much better throughout the day. The wind is still rocking the trailer. It got bad enough that I put the front window shield back down; it was flapping in the breeze. Lots of blown down tents, etc. There is enough dust in the air that you can't see any of the mountains surrounding the campground. Even the hummingbird feeder blew over!
I spent most of the day sitting in the trailer reading. I did make a run for coffee before breakfast & while the wind was still gentle gusts. Dinner will either be soup cooked on the stove in the trailer, or a trip to a local restaurant.
I did take a photo of my Grand Kid's drawings hung on about the only wall section large enough: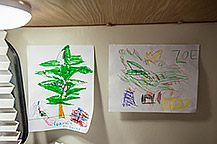 Valerie & Zoe's Christmas Pictures
Until Tomorrow -
---
This page is maintained by: vermilye@oswego.edu
Last Update: December 27, 2015