2015 - 2016 Southwest Trip
Day 92
2011 Trip across the US
2012 Trip across the US
2014 Trip across the US
2015 Trip to Alaska
Other Trips
Wednesday, January 13, 2016, La Posa West LTVA, Quartzsite, AZ, Day 56, 0 Miles, 4,046.3 Miles for the Trip
After breakfast I headed to the Laundromat to do three loads of laundry & a shower. Very busy, again I had to wait for a pair of dryers. When I got back to the campground there were even more RVs blocking my view. I did have enough sun for my solar panels, but I had an invite to another part of the La Posa West where there was a bit more room & a better view of the mountains rather than the Class A next door. So, I packed up & moved a couple hundred feet. There are a couple of small class C RVs here as well as a 19.5' Bigfoot a short distance away. There is a 5th wheel next door, but far enough away not to block the view.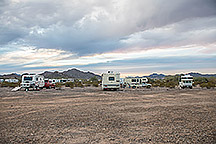 My New Location
I sat round and talked with my new neighbors, then as the sun ducked behind the clouds it got cool enough that we headed back to our RVs to make dinner.
Dinner was a couple of chicken burritos & a salad. I believe I'm getting using the Dutch oven as a standard oven fueled by propane under control. It still takes a watchful eye & adjustments of the burner, cover & lid, but I can keep it at 350°F. The true test will be baking a blueberry pie!
Until Tomorrow -
---
This page is maintained by: vermilye@oswego.edu
Last Update: January 14, 2016