2015 - 2016 Southwest Trip
Day 107
2011 Trip across the US
2012 Trip across the US
2014 Trip across the US
2015 Trip to Alaska
Other Trips
Thursday, January 28, 2016, La Posa West LTVA, Quartzsite, AZ, Day 71, 0 Miles, 4,046.3 Miles for the Trip
Well, the boredom of Quartzsite went away this morning. I opened the refrigerator to get out a yogurt for breakfast & the door fell off! It appears the bracket that holds the hinge pin on the bottom of the cabinet cracked so that the pin dropped low enough that the pin on top pulled out of the hole in the door. It took quite a bit of wrestling with the door to get it back on, and with a couple of washers, I think it will hold.
After that I went to dump the trailer tanks. I was hoping to wait until I moved to Dome Rock, but the black tank is full. A long line of 12 RVs ahead of me, about a 45 minute wait.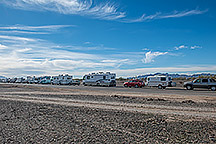 The Line at the Dump Station
After dumping, I left the trailer attached just in case one of the RV service centers I called had the hinge & could schedule me for replacing it (Yes, I am an optimistic person!) No such luck. The only one that returned my call was RV Lifestyles here in Quartzsite. I hope the new hinge is the correct part - the service people were rather cavalier about the part - I'll find out in 10 days...
The weather is beautiful. Low 70's & the wind is light enough that it is comfortable even in the shade. I did a bit of reading before getting a price on the hinge - $18.90.
After driving over to RV Lifestyles to pay for the hinge, I was next to Loves gas station, so I stopped in for some Chester's Chicken for dinner. I don't know how this seems to always happen to me, but they gave me two legs & a breast when I ordered 2 legs & a thigh. I don't like white meat all that much, and they usually charge more for it, but somehow on this trip I keep getting breasts in place of thighs in many different chicken places.
Until tomorrow -
---
This page is maintained by: vermilye@oswego.edu
Last Update: January 29, 2016