2015 - 2016 Southwest Trip
Day 144
2011 Trip across the US
2012 Trip across the US
2014 Trip across the US
2015 Trip to Alaska
Other Trips
Saturday, March 5, 2016, City of Rocks State Park, NM, Day 7, 0 Miles, 4,615.2 Miles for the Trip
Another mild morning. After my walk & breakfast I sat around outside reading. I took a break to drive up to the high point in the park that overlooks the campground for a photo. After that it was back to the trailer. I started to do some packing in preparation to leaving tomorrow.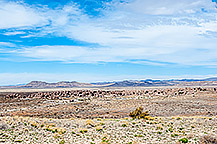 The Campground From the Overlook
I hope the light clouds clear enough for the "Observatory Night" that is scheduled tonight.
I put the stove away & dug out the Volcano Grill & Dutch oven to bake a couple of burritos for dinner.
Until tomorrow -
---
This page is maintained by: vermilye@oswego.edu
Last Update: March 6, 2016