2015 Trip to Alaska & More
Day 8 -
2011 Trip across the US
2012 Trip across the US
2014 Trip across the US
Other Trips
Monday, June 15, 2015, Nickel Lake Regional Park, Weyburn, SK, 225 Miles Today, 1734.2 Miles for the Trip
We stopped in Rugby to replace the propane we've used so far on the trip. Don needed 2 gallons. Since I didn't refill the tank after the trip to Tennessee, I needed 4 gallons. The idea was to get it in the US where it would be less expensive, but at $3.50 per gallon, I'm not sure Canada is any more expensive. I'm used to paying $10.00 to fill an empty tank (about 4.7 gallons).
A bit more on US 2, then ND 58 to the border at Portal. An easy crossing, although it was the first time I had the inspection officer use a checklist (he actually checked boxes as he asked questions). We headed northwest on 39,stopping for the day at the Nickel Lake Regional Park outside of Weyburn. We are in sites 17 & 18, huge sites close to the washrooms.
Now I don't want to pick on Canadian campgrounds, because a number of the US places I've stayed have the same problem, but the Canadian parks seem to do it more often - the utility hookups are in the wrong place. Here they are at curbside, requiring a longer than normal power cord & water hose. Don solved the problem by pulling into the site tow vehicle first. In my case, the RAV4 is short enough that I could just get it off the road & still hook up. At least I could reach it with my 25' cord. I was in a Provincial park in BC that required 40' of power cord. With the two trailers parked in the opposite directions, we have a huge space between us: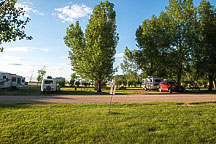 After setting up Don & Anne walked to the lake. I hung out at the campsites & enjoyed the sun. It is cool in the shade, but the sun has quite a punch.
Dinner was grilled chicken, corn on the cob, and a microwaved spinach & noodle side dish. Ice cream cones for desert. Not to bad a meal, although it was the first time I've had microwave cooking while camping. None in the Escape, but there is one in the Scamp.
This is being posted a little late - The campground office manager suggested that the campground WiFi @ $9.00 per day would be too slow to do my images, so I waited until we reached the next stop.
Until Later -
---
This page is maintained by: vermilye@oswego.edu
Last Update: June 16, 2015