2017 - 2018 Trip to Pick Up the New Escape 21 & More
Day 65
2011 Trip across the US
2012 Trip across the US
2014 Trip across the US
2015 Trip to Alaska
2015-16 Southwest Trip
2016 New England Trip
2016 - 17 Southwest Trip
Sunday, October 8, 2017 - Silver Falls State Park, Sublimity, OR, Day 8, 0 Miles, 1,303.2 Towing Miles For the Trip
After posting the photos from the pot luck dinner, I was down to 75% on the GoPower controller meter. Since I can't really depend on it for an accurate state of charge on the batteries (after a week hooked up is said 90%, and went from 95% to 65% making a pot of coffee that used 6 amp hours). I'm more of a believer of the voltage reading (at least when the sun is off the panels) which showed 12.5 volts, which, depending on which table you use, is anywhere from 80% to 90% full. In any case, there wasn't enough solar yesterday to fill my batteries.
I checked with the park ranger station, and there were 3 sites available in the "B" loop that have water & electric, so I decided to pack up a day early & move. B10 also has lots of sun, which helped drying out my ground cloth, and other damp stuff. We packed up the easy up after some sun, but it was still a bit damp. I'll have to set it up when I'm somewhere with warmer weather & more sun. Hope that isn't until Quartzsite!
Site B10 cost me an additional $7.00, but is level enough that I didn't have to unhook, so packing up in the morning will be quick & easy.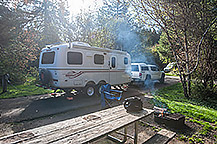 Site B10
Most of the day was saying good byes to those that left. Donna left me her firewood, so I had a fire going all afternoon. The afternoon was spent sitting around the fire reading my Kindle. I had some taco chips and salsa, and a few small pieces ended up on the picnic table. There was an attack of a flock of about 4-5 Steller's Jays as soon as I moved a foot away. I have to admit I didn't have the camera, so I committed the sin of tossing out a couple more chips once the camera was in hand. They sure fight for the stuff - most of the photos were blurred by their movements since the table was in the shade, but I got a few:
Steller's Jay
Steller's Jay
Dinner was a microwaved Boston Market Chicken Parmesan dinner.
Until Tomorrow -
---
This page is maintained by: vermilye@oswego.edu
Last Update: April 25, 2020