2017 - 2018 Trip to Pick Up the New Escape 21 & More
Day 265
2011 Trip across the US
2012 Trip across the US
2014 Trip across the US
2015 Trip to Alaska
2015-16 Southwest Trip
2016 New England Trip
2016 - 17 Southwest Trip
Thursday, April 26, 2018 - Greenbelt National Park, College Park, MD - 82.7 Miles, 7,562 Towing Miles For the Trip
The drive north on I 95 was uneventful until I hit 30 miles south of the campground. At that point, lots of stop & go traffic. For some reason, Matilda, my GPS decided that taking I 495 & I695, and DC 295 was the best way to get to Greenbelt Park. I doubt it was because most of the stop & go part of the trip was on those sections. At least I got to drive across the Potomac River and see the downtown Capital District. There is an exit off I495 to the Baltimore Washington Parkway that might have been faster if I had stayed on I 495, but since I don't really know the Washington DC roads, I followed the GPS. The Baltimore Washington Parkway had the least traffic of the drive. Anyhow, I'm here.
I didn't write down my site number this morning while I had the computer running during breakfast, but since they put signs on the sites, I was pretty sure I'd find my name. I knew I was in B section, but after making a full loop around the campground, no sign for Vermilye. I parked & dug out the laptop, and found I'm in Site 64. I checked with the host, and while there should have been a sign put up by the other host, it didn't happen. The reservation does exist, so no one else should book it. While not perfect, I was able to level the trailer with one Anderson Leveler. I did have to disconnect to get the front to back level, but I planned to disconnect anyway for visits to my daughter's home. $10.00 per night with the Senior Pass for a dry campsite. 3 sites away from a bathroom with a shower. Some shade, but more open for the solar panels than most of the other sites in the loop. I had made notes last year of the clearest sites. Of course that was when I had an Escape 17, and the 21 just fits in the site.
For those interested in the cell coverage for this section of the park, AT&T has a LTE signal of -101dBm, with an download speed of 6.1Mbps, up @ 13.3Mbps, and Verizon has a 4G, LTE signal of -116 dBm, with an download speed of 5.0Mbps, and up at .6Mbps. No Wifi...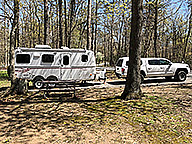 Site B64
After setting up I called Karin & headed to her house to pick up Zoe at the bus stop. Valerie did the "Take your child to work" day with Karin since Brian is currently in Germany, a bit of a long trip for a one day visit!
Wild Azalea
Home From the Bus
Valerie
Zoe & Valerie
After getting back to the trailer, I met a couple from Maryland that was photographing a flowering tree. It was a wild azalea, evidently somewhat rare for the area. A pretty flower, so I had to take a couple myself, even though it was late enough that there wasn't much light left. If the predicted rain tomorrow isn't too bad, I'll try for a couple more photos with more light.
Dinner was a Quorn Chicken patty. I've never had one before, and would have never known it was a vegetable product unless Karin mentioned it. Both Karin & Brian have been vegetarians since college. While they don't force it on me while I'm visiting, I love to discover new vegetarian food since it seems to agree with my stomach better than meat.
Until Tomorrow -
---
This page is maintained by: vermilye@oswego.edu
Last Update: April 27, 2018