2018 - 2019 Trip
Day 249
2011 Trip across the US
2012 Trip across the US
2014 Trip across the US
2015 Trip to Alaska
2015-16 Southwest Trip
2016 New England Trip
2016 - 17 Southwest Trip
2017 - 18 Trip to Pick Up a New Escape 21 Trailer & More
Wednesday, April 10,, 2019 - Cades Cove, Great Smoky Mountain NP, TN, Day 3 - 0 Miles, 10,772.5 Miles for the Trip
A beautiful night, although around 6:00AM the furnace came on for one cycle with the outside temperature at 49°F. It warmed up quickly, and after a walk & breakfast I joined some of the other Escape owners for coffee & talk. There are still 4 of us here in the campground, although a different 4 from when I arrived.
I spent most of the day sitting outside under the awning (the sun was warm & the outside temperature in the low 80's) reading. I did take a break or two to try to photograph the bumblebees that are flying around the campsite. They are tough. Too small for the auto focus to work, and as they dart back & forth, focusing manually is "interesting". They are small enough that even though a few images look sharp in the full size image, cropping shows they are not. I also took a couple of photos of the violets along the campground road:
Bumblebees With the D800 & 105mm Macro Lens
Violets
Bumblebees with the D850 & 24 - 70mm Zoom Lens
After that it was more sitting in the shade. We have attracted another fiberglass trailer, a Happier Camper. This is the first I've seen in the flesh; a lightweight (even for fiberglass) trailer that has a full width rear door.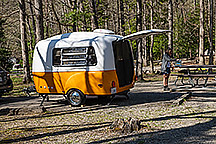 Happier Camper
So, we have a Casita, a Happier Camper, and 2 Escape 19's, a 15, and a 21; enough for a rally!
Dinner was chicken & asparagus at one of the neighboring Escape 19's.
Until Tomorrow -
---
This page is maintained by: vermilye@oswego.edu
Last Update: April 11, 2019