2018 - 2019 Trip
Day 255
2011 Trip across the US
2012 Trip across the US
2014 Trip across the US
2015 Trip to Alaska
2015-16 Southwest Trip
2016 New England Trip
2016 - 17 Southwest Trip
2017 - 18 Trip to Pick Up a New Escape 21 Trailer & More
Tuesday, April 16, 2019 - Lake Anne State Park, VA - 256.8 Miles, 11,217.6 Miles for the Trip
I don't know if I can blame the altitude (2000') or the weather, but it was a cold night. I ran the electric disk furnace, and it was going pretty good at 6:00AM, with an outside temperature of 31°F. It was above freezing when I packed up the trailer, but it was still a very stiff water hose & electric cord going back in the storage compartment. There was still ice on the windshield as I left.
Lots of narrow, two lane roads between I81 & Lake Anne State Park. It looks like I won't have to retrace the route heading to Greenbelt park; VA 208 looks to be more of a main drive.
The reservation for Lake Anne just promises a site; you get to pick one out. A confusing mix of reserved sites by site number, and first come reserved sites (which I have). I'm in site 42, a water & electric site that is almost level (I didn't have to unhook) on pea gravel with a large gravel tent pad. Price is even more than Hunger Mother at $50.94 per night with tax & transaction fee. I'm here for two nights.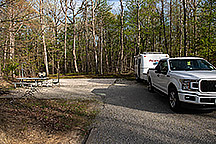 Site 42
The bathrooms are the same configuration as the new building at Hungry Mother - separate restrooms & individual shower rooms, although no shower curtains here, and two of the four are out of service. They do have a laundromat with 2 washers & two dryers for $1.00 each.
Dinner was a Bubba Burger & salad.
Until Tomorrow -
---
This page is maintained by: vermilye@oswego.edu
Last Update: April 17, 2019