2018 - 2019 Trip
Day 257
2011 Trip across the US
2012 Trip across the US
2014 Trip across the US
2015 Trip to Alaska
2015-16 Southwest Trip
2016 New England Trip
2016 - 17 Southwest Trip
2017 - 18 Trip to Pick Up a New Escape 21 Trailer & More
Thursday, April 18, 2019 - Greenbelt Park, MD - 99.1 Miles, 11,316.7 Miles for the Trip
I got a late start since I only had to go 100 miles. Of course I forgot that is is far better to stay on I95 to the north side of Washington rather than take I 395 through the center of it, but that is the way Matilda, my GPS wants me to go. Since I don't do the drive that often, I don't remember to ignore Matilda. So, a long stop & go drive through the heart of the capital.
I'm in site 140 in the "D" section of Greenbelt Campground. I did discover that this is not a National Park, so I have to stop complaining about it being one of the worst kept up NPs, and I have to say that the D section I'm in is better than the B section I was in last year. A large enough site for both the trailer & truck with a picnic table & fire ring. Not too far from the clean bathrooms (that has a shower). Dry camping at $10.00 per night with the senior pass.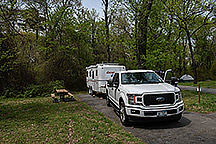 Site D 140
After setting up I sat out & read for a bit. My daughter & grandkids won't be home until 3:30 or so.
I made the 9 mile drive to Karin's without too much trouble. We sat around until dinner which was a grilled chicken sandwich, CryFry, and a chocolate shake at BurgerFi in Silver Springs. CryFry is a bowl of onion rings & french fries. The chicken was OK, but nothing special.
Until Tomorrow -
---
This page is maintained by: vermilye@oswego.edu
Last Update: April 19, 2019