2018 - 2019 Trip
Day 263
2011 Trip across the US
2012 Trip across the US
2014 Trip across the US
2015 Trip to Alaska
2015-16 Southwest Trip
2016 New England Trip
2016 - 17 Southwest Trip
2017 - 18 Trip to Pick Up a New Escape 21 Trailer & More
Wednesday, April 24, 2019 - Ricketts Glen State Park, PA - 183.3 Miles, 11,564.8 Miles for the Trip
For some reason, Matilda, the ever "accurate" GPS insisted that it was 485 miles to Ricketts Glen State Park if I checked "No Highways". If I unchecked it, 245 miles, a bit on I 70 and a longer stretch on I 81. I did the I 70 & I 81 interstate sections, and after getting off I 81, re entered the route with "No Highways" it still insisted there was over 400 miles to go. I unchecked "No Highways", and it showed 120 miles to the park, and never took me on a highway (unless you consider US 11 a highway). She must have an "interesting" way of getting to Ricketts Glen. Speaking of ways to get to Ricketts Glen State Park, the recommended entry on PA 487 is from the North. The southern part of PA 487 between Red Rock (why does every state have at least one Red Rock - I haven't seen a red rock anywhere near this one) and the park goes up a 2 mile 18% grade. While I have driven it both ways with the RAV4 & the Tacoma towing the 17, this was a first for the F 150. No problem, it did the posted 45MPH in 3 & 4th gear. I was in 1st or 2nd with both the RAV4 & Tacoma going up (or down, for that matter).
In any case, after 183.3 miles, I was in campsite 104, a dry site for $24.75 per night. I prefer site 103 or 104 because both have less shade than the rest of the small loop sites, keeping the solar panels happy. 104 is the most open when the trees have leaves, although they are just starting to bud today. There are two loops in the campground; I prefer the small loop, although the large loop has some sites on the lake.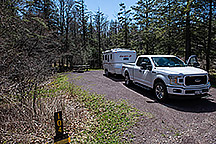 Site 104, Small Loop
The bathrooms are a medium walk, are heated, and have showers.
While there is no AT&T coverage at my site, Verizon alternates between one bar of 3G or 1X service, but no internet. Neither my AT&T or Verizon iPhones show any service, with or without the amplifier. So, it will be a couple of days before I can post anything.
Dinner was a Digiorno Spinach & Garlic pizza.
Until Tomorrow -
---
This page is maintained by: vermilye@oswego.edu
Last Update: April 25, 2019