2011 Trip - Day 31
Back to Jon Vermilye's Photo & Trip Page
Other Trips:
---
Wednesday, May 18 -Grand Canyon, AZ, 154.5 miles - 6335.1 for the trip
I'm in the Desert View Campground at the Grand Canyon. I was planning to stay 2 days, but since it was 34°F at 2:00 & there was a inch of snow on the ground as I arrived, and the prediction is for more tomorrow, I only registered for one night. It's not like there is a space problem; there are only about 5 other nuts like me that are staying overnight! If things improve, I'll add another night
Another rather exciting happening - I hopped into the trailer, turned on the furnace & started warming things up. The refrigerator wouldn't light, and the furnace wasn't putting out its usual blast of hot air. I ran out of propane! And it is 34°F outside (46°F inside and dropping). And it is expected to go down to well below freezing tonight. The indicator that tells me that the 2 tank system switched to the second tank doesn't seem to work, at least as I expected - the green stripe that was suppose to turn red just showed a tiny bit of red, but mostly still green. Now I know that is as far as it is going to change!
No problem - there is a gas station less than a 1/4 mile from the campground - I'll refill the tanks there. Problem - they don't have propane. The closest propane is in Tusayan going west or back to Cameron going east, the way I came in. I drove to Tusayan & filled both tanks - 9.2 gallons @ $4.75 per gallon (the same price as regular unleaded gas at the station here by the campground). So, at 3:19 (I think - I'm not on a reservation, but in Arizona; no daylight savings time & I'm not sure which my watch is set for) I have heat, in fact it is up to 48°! Well, a good lesson learned. At least the snow stopped. This time I'm leaving the second tank off so I'll know when the first is empty. By the way, on the way to Tusayan it snowed hard enough to put a couple of inches on the road. Although I passed a number of overlooks, all I saw was whiteout.
The only photo so far is Site 12 at the Desert View Campground: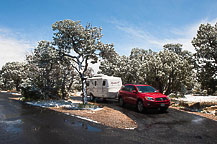 By the way, that blue sky is now gone (6:00PM) and it is snowing like mad. I'm not going to get any pictures tonight!
Till Tomorrow...
This page is maintained by: vermilye@oswego.edu
Last Update: March 20, 2012