2013 Trip To Nova Scotia, Canada
2011 Trip Across the US
2012 Trip Across the US
Other Trips
Day 14, June 24 - The Lakes Campground, Finlayson,NS - 148 miles, 1406.2 For the Trip
Another late post - No WiFi at the campground, except at the office, in fact no FM radio or cell coverage. While it was a foggy, dreary day, it never did more than light sprinkles, and that before we hit the campground. The Lakes Campground is a bit "worn" - only one shower & that is rough. It also must have had quite a bit of rain before we arrived - there are puddles & wet grass everywhere. We picked the site with the least amount of water on the ground & with a high spot for the tent, hoping there isn't too much rain this evening. A pretty spot, although lots of bugs...
The only photo for the day is the campsite - #30.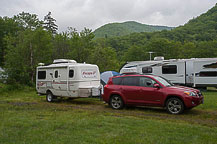 Dinner was sausage and dirty rice. I did get up to the office & was able to post today's update.
Till tomorrow -
---
This page is maintained by: vermilye@oswego.edu
Last Update: June 26, 2013