2019 - 2020 Trip
Day 128, Gilbert Ray County Park, AZ, Day 2
2011 Trip across the US
2012 Trip across the US
2014 Trip across the US
2015 Trip to Alaska
2015-16 Southwest Trip
2016 New England Trip
2016 - 17 Southwest Trip
2017 - 18 Trip to Pick Up a New Escape 21 Trailer & More
2018 - 19 Trip to Winnipeg & the Albuquerque Balloon Fiesta
2019 - 20 Trip to the Southwest
Tuesday, February 25, 2020 - Gilbert Ray County Park, AZ, Day 2 - 101.5 Miles, 4,391.8 Miles for the Trip
After breakfast and some forum reading, I packed up the trailer & headed to the office to get assigned my new site. There was still a 5th wheel in the new site, so I went and dumped & filled the fresh water tank. About a 15 minute wait after that. I'm now in A74, a wide, but shallow site. With the back of the trailer against the rocks at the rear of the site, the truck front bumper is about 2" from the road. The site is level side to side, but while I didn't need to unhook, I did crank up the front of the trailer a couple of inches.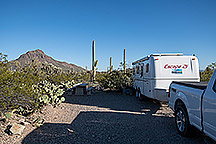 Site A74
After that it was another goofing off day. I walked around the campground loop a couple of times, and sat outside reading. Current book is Nathan Van Coops's The Chronothon. This is the second "Time Traveler Adventure" book in a 4 book series, and one that I was hesitant to start since the first book dragged. This one is much better, so I may even look at the rest of the series.
I added some photo taken during the late afternoon up to sunset. I love the evening light in the desert.
Dinner was a grilled chicken leg quarter & Bush beans.
Until Tomorrow -
---
This page is maintained by: vermilye@oswego.edu
Last Update: February 26, 2020