2019 - 2020 Trip
Day 157, Rock Island State Park, Rock Island, TN
2011 Trip across the US
2012 Trip across the US
2014 Trip across the US
2015 Trip to Alaska
2015-16 Southwest Trip
2016 New England Trip
2016 - 17 Southwest Trip
2017 - 18 Trip to Pick Up a New Escape 21 Trailer & More
2018 - 19 Trip to Winnipeg & the Albuquerque Balloon Fiesta
2019 - 20 Trip to the Southwest
Wednesday, March 25, 2020 - Rock Island State Park, Rock Island, TN, 142.2 miles, 6,578.5 Miles for the Trip
A relatively short drive to Rock Island, TN. Most of the drive was on 4 lane roads, either interstates or US 70S. Just outside Lawrenceburg is a large Amish community. I saw over 6 carriages on the side of the road. I got a photo of one of them - lousy, but driving & photographing doesn't make for great photos.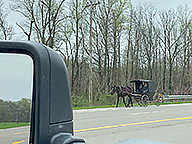 An Amish Carriage
I made a short stop at a Krogers and managed to get most of what I wanted. No gallon bottles of water, no sanitizing wipes or bottles, but I have a few more meals. Everyone stayed as far apart as possible, many with masks & gloves. I did head into the trailer & washed my hands on the way out.
I arrived at Rock Island State Park around 1:30. The office, like most, was closed, but there was a card on my site with my reservation information. The site is paved, mostly level (1/2" side to side & flat front to back) with water & electric for $27.59 per night. I booked 4 nights. My neighbor has a interesting tow vehicle. He felt the Ford E series chassis was more comfortable than F series, so he took an old RV, removed most of it, added his own rear seating & pick up bed. The first time I've seen something like this, but he said many individuals are buying old ambulances & doing the same.
| | |
| --- | --- |
| | |
| Site 29 | Home Built Ford |
For the first time in weeks, there are patches of blue sky, and an unusual yellow orb in the sky. I sat outside and read most of the afternoon. Current book is Long Range by C. J. Box. I took a walk around a couple of the campground loops, and almost every site is booked for the weekend.
Unfortunately, at 4:45 a couple of rangers stopped by letting me know that Tennessee is shutting down camping as of Friday at 12:00. So, both the end of my stay here and all of my one week stay planned for Cumberland Mountain have gone up in smoke. I was even thinking of extending the Cumberland Mountain stay to two weeks since New York is having major problems. So far, my small community in upstate NY looks far better than downstate, but I have to get there.
So, time to find some open campgrounds.
Dinner was a homemade pizza.
Until Tomorrow -
---
This page is maintained by: vermilye@oswego.edu
Last Update: March 26, 2020