A Trip Across the USA
Jon Vermilye's Photo Page
---
---
May 26 - The Umpqua Trail & Crater Lake
We got another early start today, down Interstate 5 to Roseberg, then to Crater Lake National Park on 138. Oregon 138 and part of Rt 62 are labeled as the Rogue Umpqua Trail, with the North Umpqua River running along side. Many rapids, cascades and small waterfalls with lots of turnouts to stop & take photos. On the downhill side from Diamond Lake Muir Creek is smaller, but no less spectacular. A highly recommended drive.
| | |
| --- | --- |
| | |
| Rapids on the North Umpqua River, Oregon Route 138 | A Small Falls on Muir Creek, Oregon Route 62 |
We had to bypass the North entrance to Crater Lake because it is still closed due to snow (Crater Lake gets more snow than Oswego - 66 inches of precip, most as 44' (yes, FEET!) of snow. The Rim Drive & North entrance usually does not open until late June. Even though we could only go as far as Discovery Point on the Rim Drive, the contrast between the snow & the incredible blue of the lake was fantastic. This is a place that I would like to see in every season.
| | | |
| --- | --- | --- |
| | | |
| Crater Lake From Discovery Point | Carol & Snow at Crater lake, OR | Crater Lake From Discovery Point |
After viewing the crater, buying postcards and, of course, a "T" shirt, it was off to Klamath Falls for the night. Also got a chance to wash the car. Not the most important thing to do, but it sure was getting grimy.
---
May 27 - Mt Shasta & Burney Falls
After a late start out of Klamath Falls, we headed down US 97 for California & Weed, CA where we switched to CA Route 89. Our plan was to follow it to Lake Tahoe, but again, the weather changed out mind. Our first stop was for some photos of Mount Shasta. It is quite impressive since it is over 14,000' high, rising from about a 4000' base. The problem today was fog covering most of the top of the mountain. In fact, most of the time it covered the entire thing. We did get a chance for the photo below.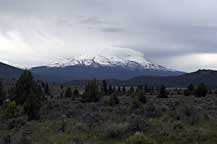 Mount Shasta, CA
CA Route 89 is a fast, pretty drive through a number of National Forests with many campgrounds, both forest service & private. When it is only 2 lane, there are many turnouts & passing sections, so anyone wishing to maintain a steady 65 mph can.
Someone told me I had to stop & see Burney Falls along CA 89. It is located in Burney Falls, McArthur-Burney Falls Memorial Park, named for an early English settler killed in an American Indian raid in 1857. I'm glad they made the recommendation - it is one of the most impressive falls I have seen. Not the highest, not the largest volume of water, but beautiful! The mix of many small sections and the main flow are wonderfully balanced. The photos don't do it justice, but here they are:
| | | |
| --- | --- | --- |
| | | |
| Burney Falls, McArthur-Burney Falls Memorial Park | Burney Falls, McArthur-Burney Falls Memorial Park | Burney Falls, McArthur-Burney Falls Memorial Park |
It is also a beautiful campground. The problem is rain. We just don't like camping in the rain. I guess we are getting soft in our old age...
Anyhow, we kept going. The plan was to stop & see Lassen Volcanic National Park. I've never had the chance to see obsidian in it's natural state, so it seemed like a natural stop. Two problems - I met a Californian at Burney Falls that had just come from Lassen, and he said it was still covered with snow. We decided to try it anyway, but at the intersection of CA Route 89 & CA 44, a sign stated 89 was closed just below Manzanita Lake due to snow. I don't know if the sign was placed there by the Chamber of Commerce's of the towns along CA 44 (there are not many of them) but since it would mean back tracking a fair distance without being able to see the park, we took CA 44 around it all. This is another 65mph drive through more National Forests with many logging trucks, but again with adequate turnouts & passing lanes.
We are back in the rain mode - although it stopped long enough for some pictures at Burney Falls, the rest of the day was light to heavy showers. We stopped for the night at Susanville, CA in the Apple Inn Motel. A nice place & inexpensive. We decided to make reservations for Yosemite since it appears we will arrive there on Memorial Day weekend. I'm glad we did - the first 4 places were already filled. So, for the second time, we have a time constraint - we need to arrive in Mariposa, CA on the 29th. Tomorrow it is off to Lake Tahoe. Till then...
May 28 - Lake Tahoe & California Route 4
We left Susanville & headed down US 395. Passed Honey Lake, a empty of water mud flat. Looks very strange. Although 395 was not our original route, it made sense after bypassing Lassen & ending up in Susanville. The new plan was to go through Reno, catch NV 431 & rejoin CA 89 on the North side of Lake Tahoe. Delorme Street Atlas chose an interesting way to go from US 395 to NV 431, routing us through a bunch of housing developments. Some of the houses were beautiful, however we must have hit 20 stop signs. Sometimes a shortcut isn't! NV 431 climbs through the Humboldt Toyable National Forest. The usual steep grades & switchbacks we have been hitting all over the West with breathtaking views of the city of Reno & surrounding area.
Lake Tahoe looks great. The first view was from NV 431 a little before we reached Incline Village. Once we were level with the lake, the views were great, although often covered by the homes between the lake and the road. We then climbed above the lake & stopped at Emerald Bay State Park. A wonderful view of the lake & a waterfall dropping from road level to the lake. Unfortunately, there was no good location for a photograph of the falls, but lake view complete with a great looking tree is below. I also got a photo of a Steller's Jay that keep Carol company while I was out taking pictures.
| | | |
| --- | --- | --- |
| | | |
| Tahoe from NV Route 431 | Emerald Bay, Lake Tahoe, CA | Carol's Buddy |
We did a short stint on US Route 50 before we turned off on CA Route 4. There is a sign at the start that lists all the passes & notes that they are open - Good sign. Also, a sign suggesting that vehicles over 28 feet & those with hitch pin trailers should find alternate routes - Interesting sign. Now I have little fear of driving mountain roads, having driven jeeps in Viet Nam over mountain roads that were not even roads. Saying that, CA Route 4 through some of those passes was, well a good term is exciting. First, the road starts to get narrower & narrower. Then the center stripe disappears. The road was getting too narrow for a car to fit on half the road. Of course that means 2 cars meeting was interesting. Then the switchbacks started. This was the first paved road I have ever driven that had 10% or better grades on the switchback. If you were driving something that had any overhang behind the rear wheels, I'm sure it would hit going around the turns. We spent a large portion of the trip in 1st gear. The most exciting was going up Ebbetts Pass (8730'.) And, by the way the only place you find guard rails is on bridges. I'm not sure why - if you go over a bridge, it is only about 10 - 20 feet to the water. If you go over the edge away from the water, it is about 500 - 1000 foot drop. Maybe keeping cars out of the stream is for pollution control? Anyway, the photo of the road is at one of the few large turn outs. By the way, it was also a beautiful drive with many streams, waterfalls, cascades and huge trees, some of which the road was built around.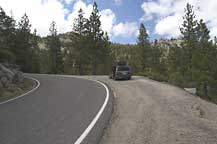 California Route 4
We stopped for the night in Jamestown, CA with plans to visit the Railroad Museum tomorrow. We should be able to update the pages tomorrow night since the motel advertises WiFi. Till then...
May 29 - Jamestown Railroad Museum& Yosemite
We didn't see all 22 acres of the Railroad Museum, but did check out the Roundhouse, the station & the train that offers rides. There is quite a bit of information about the history of railroading in the area & lots of railroad "stuff" for sale at the gift shop. All we bought was a postcard.
| | |
| --- | --- |
| | |
| The Engine Getting the Train Ride Ready | Carol Checking Out a Display |
After the Railroad Museum it was off to our motel in Mariposa. The road was California 49, aptly named since if follows the path of the gold mined by the 49'ers. Who ever made the road knows the engineers who made CA Route 4. This one was even making me car sick, which never happens (at least when I'm driving!). I included a photo which shows the climb from the Tuolumne River (which looks like a lake) to Bear Valley. It isn't that far in miles, but at 15 mph, it sure takes time. We saw a couple of motorcycles that had a death wish, going round the hairpins so fast they were tipped over to their pegs.
California Route 49
We still got to Mariposa far too early to move into our room, so it was off to Yosemite. CA Route 140 is about like all the California roads we have traveled; up & around the hills & mountains. It took about an hour to get to Yosemite & about 1 1/2 hours for the last mile. Paying the fee at the park entrance brought everything to a dead stop, although it was the most picturesque traffic stop I have been in. The Merced River runs along Route 140 with many rapids & cascades. Once we were within sight of the entrance station, all we had to do is flash out National Park card & we bypassed those waiting to pay. By now we have more than paid for the card.
Once in the park, we decided rather than fight the crowds, which were huge, we would head for Glacier Point. On the way we stopped at Bridalveil Falls. Very crowded, and the best view of the falls, at least for a photograph, was from the parking lot. I did get a photo of the stream below the falls. If you look closely, you can see the kids climbing through the stream.
| | | |
| --- | --- | --- |
| | | |
| The Merced River | Stream Below Bridalveil Falls | Bridalveil Falls |
I had been told Glacier Point had great views of many of the features of the Park, and, although out of the way, well worth the trip. Well, it was both. Quite a climb, but the view of Half Dome is wonderful. Some photos below. The close up of the top of Half Dome shows a group of climbers at the top. Although some do climb the face, most of them went up a trail on the back side. Difficult, but not impossible! The last image is of El Capitan from the valley floor.
| | | |
| --- | --- | --- |
| | | |
| Half Dome, Nevada & Vernal Falls From the Glacier Point Road | Half Dome from Glacier Point | The Top of the Dome - Check the Large Image - You Can See The People on Top! |
| | | |
| Some of the Park Wildlife - I Couldn't Find a Bear | Another View of Half Dome | El Capitan |
We are calling it a night early so that we can get a jump on the crowds entering the park tomorrow. I'll let you know if it works! I'll try to post this update tonight, but so far, although I have been able to connect to Oswego's web server, no luck with the FTP server. If it doesn't work I'll try later or in the morning...
May 30 - Yosemite 2
Well, it's morning, and I found out why I couldn't FTP my updates to Oswego (if you don't know what FTP is, don't bother reading the explanation) Oswego started requiring VPN software to make outside connections to the College systems. A good idea - it adds another layer of protection against connections to the system that shouldn't be there.
Now my problem is hitting my Disk Quota, or the amount of space I'm allowed to use within my account. I have temporarily removed Karin's Wedding photos (Sorry guys) & requested more space. Since I already have more than my fair share, I hope I'll get a little more.
Carol isn't feeling well, so we got a slow start, but did get back to the park. We went through the valley, stopped at Mirror Lake - a disappointment - instead of a quiet, mirror surfaced lake reflecting half dome, it was a zoo of people, some playing softball in the sand in the middle of the lake. I'll have to agree with the statement that "We are loving our National Parks to death." Of course, I'm part of that. I think I need to come back sometime in early Spring or late Fall. Since I am still out of disk space, I can't add any more photos. Maybe more in the future. Overall, Yosemite is an amazing place. I have a few memories of places we stopped from my first trip West (age 5) and Yosemite was one of them. Back then, they ended each night with a park ranger yelling "Let the Fire Fall," at which point they pushed a pile of burning logs over one of the dried up waterfalls. It was beautiful - not environmentally sound, but beautiful. A web page with photographs, descriptions & comments is at Yosemitefirefall.org. Of course they don't do it any more, but the park is still one of the best.
Late Addition - After getting back to Oswego, I compressed some older photos so there is room for these:
| | | |
| --- | --- | --- |
| | | |
| Bridalvail Falls & The Merced River | Mirror Lake, Half Dome & Baseball | The Stream into Mirror Lake & Half Dome |
We are leaving our WiFi connected hotel in the morning, so I'm not sure when the next update will arrive. Till then...
---
This page is maintained by: vermilye@oswego.edu
Last Update: March 25, 2012