2014 Trip Across the US & Canada
Day 87
2011 Trip across the US
2012 Trip across the US
Other Trips
Saturday, January 4, 2014, Cattail Cove State Park, AZ, Day 13 - 0 miles, 4,860.4 For the Trip
I was up a bit earlier than usual so I could drive to Parker, AZ for my Cardiologist's appointment. While he wants me to cut the new medication in half, refrain from alcohol which is no problem, and coffee (yikes!), he feels there is no need for me to head back home unless I have a number of more episodes of A-Fib. Since I'll be staying in the general area for at least another month, he feels that is long enough to be sure everything is under control.
According to my GPS, there is no Laundromat in Parker, AZ. I find that hard to believe, but rather than spend a bunch of time looking for one, I drove to Lake Havasu City & did laundry at the same place as 2 weeks ago. Of course that took longer & cost more in fuel than a long search for a laundromat in Parker, but... I also stopped at the Safeway for some chicken & asparagus for dinner.
While I still didn't get the image of the moon I want, at least there was a clear shot of the crescent this evening. I still need to shoot it when the crescent is small enough that the earth glow shows. When it gets as large as it is now, it is too bright for the earth lit remainder to show. Anyway, here is enlarged image shot with my 300mm lens & doubler for a total of 600mm. I'll have to wait until close to the next new moon to try again.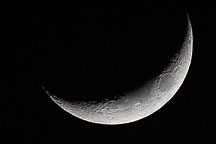 Until tomorrow -
---
This page is maintained by: vermilye@oswego.edu
Last Update: November 27, 2014