2014 Trip Across the US & Canada
Day 184
2011 Trip across the US
2012 Trip across the US
Other Trips
Friday, April 11, 2014, Sea Bird RV Park, Brookings, OR, - 84.2 miles , 7269.4 For the Trip
Happy Birthday Zoe!!! (My granddaughter in Botswana)
I'm finally out of California. While I love the state and enjoyed the last month there, it sure is expensive (well, except for the Imperial Dam BLM campground). I'm in a full hookup park that is as nice or nicer than yesterday's $35.00 site, and it is only $28.00. I filled up the RAV4 and it was $3.73 per gallon instead of $4.15 (I should say the station attendant filled the RAV4 - Oregon & New Jersey are the only states that don't let you fill your own tank).
I also just realized that as of yesterday, I've been on the road for 6 months! Hard to believe...
I stopped on the way up US 101 at a set of rocks that begged for some long exposure images. I know I over do them, but I like them & since I shoot for myself these days, I get to do what I like!
Along US 101
I stopped for the night (actually barely afternoon) just across the CA / OR border in Brookings, OR at the Sea Bird RV Park. I'm in site 1; full hookups including cable. After dropping the trailer I headed into town for a car wash. Wish the trailer would fit - The RAV4 looks great, but the front of the trailer is pretty bug filled. Also stopped by Fred Meyer for some stove propane, a few books (one free for every two you purchase), and some bread. The first Fred Meyer I've been in - quite the store. While there I picked up a Paul Newman thin crust pizza for lunch/dinner. Had to cook it right away since it doesn't fit in the freezer section of the refrigerator. Dinner will just be a snack.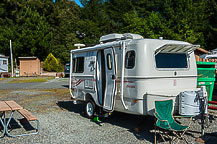 Site 1, Sea Bird RV Park, Brookings, OR
I called Bullards Beach State Park and they said they expect they will have sites for tomorrow (it is too close to make an on line reservation) so I'll probably shoot for stopping there for a couple of days.
Until then -
---
This page is maintained by: vermilye@oswego.edu
Last Update: April 12, 2014