2014 Trip Across the US & Canada
Day 212
2011 Trip across the US
2012 Trip across the US
Other Trips
Friday, May 9, 2014, Boardman Marina & RV Park, Boardman, OR - 91.4 miles, 8409.4 For the Trip
Well, for those that read yesterday's post, dinner was soup. It started to rain a short time after I posted, and continued off & on for the rest of the day and much of the night. I packed up in the morning, and as I was getting into the RAV4 to pull out, a school bus pulled into the one lane, one way road just in front of my site, stopped, and started letting the kids out one at a time to use the campground bathroom. I waited around 5 minutes, and it looked like they were going to be there a long time, so I got out and asked the driver if he could drive around the loop so I could get out. He was nice about it & pulled far enough ahead that I could sneak by in a pull through site. I guess they don't have a lot of choices since I've never seen a school bus with bathrooms, and things are far apart around here.
I joined I84 at Pendelton, and stopped for the next two days at the Boardman Marina & RV Park. It was suggested by a neighbor when I was at Lake Owyhee State Park, and I'll have to agree that it is a very nice park. Lots of open, green space on the shore of the Columbia River. $23.75 per night for full hookups, and a good view of the river from my site. There are more expensive sites right on the river that are probably great in the summer, but I'm glad I'm further away with the cool wind that is blowing today. I'm in site 7, and the only thing I don't like about it is the long walk to the showers.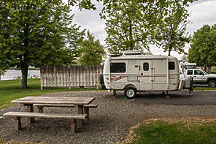 Site 7, Boardman Marina & Campground, OR
There is a middle sized grocery store here in town. Well stocked, with a large Mexican food section, but expensive. Don't use Garmin's GPS address for finding a grocery store - I drove by the real one going to the one Garmin suggested, which turned out to be a house.
If the wind dies down enough, I'll cook the chicken fillets, if not, it will be an Amy's Cheese Enchilada Dinner.
Until tomorrow -
---
This page is maintained by: vermilye@oswego.edu
Last Update: May 10, 2014