2014 Trip Across the US & Canada
Day 217
2011 Trip across the US
2012 Trip across the US
Other Trips
Wednesday, May 14, 2014, Portland Fairview RV Park, OR - 20.6 miles, 8556.0 For the Trip
Alright, I suppose I shouldn't complain about the hot weather since it has been pretty cool for most of my stay in Oregon, but today it was in the high 90's. In fact, even now at 8:00, it is still 89°F outside.
When checking my email this morning there was a message from REI that my order was in. So, after a short 20 mile drive to Portland Fairview RV Park, I dropped the trailer and headed to REI. No problems picking up the shelter sides, and I was back at the campground by 11:30. The RV park is one of the cleanest I've stayed in, all the way from the sites to the bathrooms & showers. More expensive than I've been paying lately; $38.52 with the Bed & Lodging tax for full hookups plus cable TV. Since it is only for one night, I can deal with it. I'm in site 53, two sites away from where I was in the same park in 2012.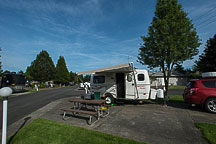 I did two loads of laundry and spent the rest of the day reading in the shade of the awning. I did make a run to the Walmart just down the street & picked up dinner - a frozen pizza. Since it was a standard rather than thin crust, I have enough left over for lunch tomorrow.
Until tomorrow -
---
This page is maintained by: vermilye@oswego.edu
Last Update: May 15, 2014