2014 Trip Across the US & Canada
Day 225
2011 Trip across the US
2012 Trip across the US
Other Trips
Thursday, May 22, 2014, Four Seasons RV Resort, Walla Walla, WA, 61 miles, 8971.1 For the Trip
The plan was to stop for the long weekend at Lewis & Clark Trail State Park, but a combination of a couple of inches of cottonwood tree fluff on the ground at most of the sites, and a charge of $32.00 for dry sites (with too much shade for the solar panel to be happy), I kept going down US 12 to Walla Walla. I needed to get there anyway to fill a couple of prescriptions. This time I'm trying Walgreens. According to the internet, they have the most stores, at least one in every state, so future refills might be easier than they have been so far.
The help at the pharmacy was great. It wasn't their problem, but New York's CSEA (the supplier of my secondary medical coverage as well as prescription plan) has again, like almost every year, changed their drug supplier. The problem is they sent the new card to my home address, and my son didn't realize it was a plan change so never forwarded the card. Fortunately, CSEA, while annoying in that they change suppliers (and sometimes, approved drugs) every year, are pretty good on the phone. Only about 5 "speak clearlies & number punches to get to a real person, who gave me all the new code numbers. I did have one prescription that needed to be transferred (there are no CVS stores in Oregon or Washington) that will take a day or two. Hope it works...
Not too much to say about the park. It is far from a campground, although I do have a picnic table. I'm in a grass site (#39) at $37.00 per night for full hookups + cable, fairly close to the bathrooms & laundry. A level pull through (at least it was) since I had to pull through another site to get to mine. Very well kept up grounds, with fountains, lots of decorations, and, while some permanent residents, very neat. The only photo is the site photo ( I just can't call it a campsite photo!)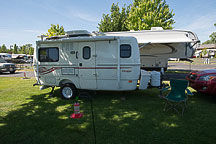 After picking up my prescriptions I headed to Walmart to pick up a new hummingbird feeder hanger (I seem to have left the last one at Maryhill State Park) plus a new tire pressure gauge. I dropped my good dial type on the pavement, and it died. Too bad, since I've been carrying it since 1990. I suspect the new digital one I bought won't last anywhere near as long. Another short stop at Safeway for supplies, and I'm back at the campground. It is hot out - high 80's, but there is a tree providing shade for my trailer & chair. According to the weather on the local radio station, it is going to go down to 50 tonight, so it should be comfortable sleeping. I'm running the fan at full speed. I have an air conditioner, but just can't bring myself to running it.
Dinner will be a left over chicken breast fillet & rice, and a salad.
Until tomorrow -
---
This page is maintained by: vermilye@oswego.edu
Last Update: May 23, 2014