2014 Trip Across the US & Canada
Day 243
2011 Trip across the US
2012 Trip across the US
Other Trips
Monday, June 9, 2014, Mineral Springs Forest Service Campground - 179.2 miles, 9651.5 For the Trip
No problems crossing the border, although I did have to pull over to have an agriculture inspection along with a bunch of RVs. The plan was to stay at the Wenatchee River County Campground, but when I arrived, the office was closed, with a sign that it wouldn't open for an hour. So, I continued on down US 97 & stopped for the day at Mineral Springs Forest Service Campground, a few miles north of where US 97 branches off to the left & WA 970 goes west to I 90. Can't complain about the price - $8.50 for the night with the Senior Pass card. No hookups, but a nice shady spot (although close enough to US 97 that there is traffic noise).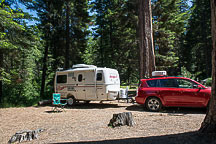 Site 9, Mineral Springs Forest Service Campground along US 97, WA
While I had a slow connection when I pulled into the campground, it went away just after I read my mail, so I won't be able to post this until I hat civilization.
No photos today other than the usual site one. Dinner will be a chicken patty & snap peas.
Until Tomorrow -
---
This page is maintained by: vermilye@oswego.edu
Last Update: June 10, 2014