2014 Trip Across the US & Canada
Day 260
2011 Trip across the US
2012 Trip across the US
Other Trips
Thursday, June 26, 2014, Austin RV Park, Austin, NV, - 208 miles, 11,795.8 For the Trip
A quiet night (other than the sound of the creek). I did wake up at 2:00AM & decided I should check out the sky; good thing I didn't plan on taking night photos since the clouds moved in & only a few of the brightest stars were visible.
While I still feel Utah 21 is a far more lonely road, I have to admit that US 50 has the same feel with a bit more traffic. I got passed every half hour or so & had on coming traffic go by every 15 minutes, so it was somewhat busy, but you drive sections of road through flats that are many miles long, and 80 - 100 miles between towns (and fuel stops). With a 15 gallon tank on the RAV4, I pay lots of attention to fuel refills! For the first time in quite awhile, I had rain during the drive. Nothing hard, but enough to need the wipers off & on.
There are even fewer choices for RV stays along this section of US 50. I wanted to do around 200 miles, so Austin was the town of choice (the next one would be Fallon another 100 miles down the road). Two RV parks, the first very small (7 sites) and no showers or restrooms, and Austin RV Park, run by the Baptist church, still small at 21 sites (although I only found 9 of them) but with showers. A single men's bathroom & shower, but the place doesn't look busy enough that that will be a problem. No host or office, just a slot to drop your registration and money. $20.00 for full hookups. Nothing special, just a place to cram one's trailer in next to another, but level enough that I didn't have to unhook. Not a lot to do in Austin, so leaving the RAV4 connected will make it easier in the AM. I wasn't even going to put the stabilizer jacks down, but the wind picked up & was rocking the trailer, so the rear ones are down.
I do hope the traffic slows down over night - US 50 is about 20' below & behind the trailer!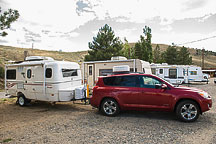 Site 2, Austin RV Park, Austin, NV
Dinner will be a pot pie.
Until later -
---
This page is maintained by: vermilye@oswego.edu
Last Update: June 27, 2014