2014 Trip Across the US & Canada
Day 275
2011 Trip across the US
2012 Trip across the US
Other Trips
Friday, July 11, 2014, Laverne County Campground, OR, - 108.1 miles, 12,488.2 For the Trip
I got an early start & was heading West on OR 138 around 8:15AM. I stopped in the Roseburg Safeway to refill the refrigerator & pick up other supplies, then continued on OR 42 to Laverne County Campground. I'm in site 7 for the weekend. Water & electric for $18.00 per night (only $16.00 for Sunday night). There is a bathroom with showers ($.25 per shower with no time posted) a few sites away from the trailer. The site is right off the road, but it is a small, quiet, country lane. The park is pretty much filled. A family moved in next to me, and because the sites are fairly narrow, it should be interesting getting the RAV4 out tomorrow. There is a breakfast at a nearby bar & grill that looks good for the morning.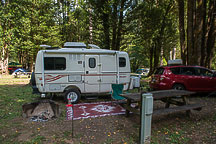 Site 7, Laverne County Campground, OR
No photos today other than the campsite. Dinner will be a pork chop & corn on the cob.
Until tomorrow.
---
This page is maintained by: vermilye@oswego.edu
Last Update: July 12, 2014