2014 Trip Across the US & Canada
Day 286
2011 Trip across the US
2012 Trip across the US
Other Trips
Tuesday, July 22, 2014, Blue Anchor RV Park, Osburn, ID - 350.8 miles, 13,186.7 For the Trip
Nothing very exciting to take photos of on today's drive. Most of it was on US 395 and I90. I made it across Washington State, and about one half way through the Idaho panhandle. Another long drive, at least for me, but it puts me within striking distance for a possible site at Two Medicine campground in Glacier tomorrow. If it is full, I'll stay somewhere on the East side of the park & try again on Thursday.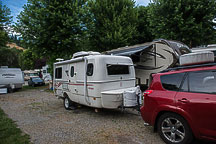 Site 31, Blue Anchor RV Park, Osburn, ID
The only photo is the site picture here at Blue Anchor; $27.00 with a Good Sam discount for full hookups. Very tight spaces, most of which at one time were pull throughs, but got turned into back ins. One men's bathroom with one stall for the entire campground, 3 very small stand alone showers with very small changing rooms, but a laundry room that was inexpensive. While I could have put it off for another week, I decided I might as well do a couple of loads. Not a campground that I would recommend for an extended stay, but fine for a one night stop.
Dinner was an ordered out pizza & chicken wings. Since there was no picnic table, I used that as an excuse not to cook!
Until tomorrow.
---
This page is maintained by: vermilye@oswego.edu
Last Update: July 23, 2014