2014 Trip Across the US & Canada
Day 301
2011 Trip across the US
2012 Trip across the US
Other Trips
Wednesday, August 6, 2014, Hidden Valley Camping Area, Jamestown, NY - 219 miles, 15,700.9 For the Trip
After 301 days, I'm finally back in New York. After a long drive across Ohio, and a short one through the northwestern tip of Pennsylvania, I took I86 to Jamestown NY. I stopped at a couple of places to get a NY State Inspection but they either couldn't do one at all, or couldn't do the trailer. Finally, I stopped at KIA of Jamestown and found they could do both the RAV4 & the trailer. I had to wait an hour & one half, but since I did it in & outside the trailer in their parking lot, the wait was OK.
When I talked with our local DMV before leaving in October, I asked how I should deal with my inspections running out while I was out West. Their answer, as usual, was not at all practical. They told me to mail them a letter when I got to the NY border asking for a temporary inspection sticker for each vehicle. They would mail them to me (I explained that I wouldn't be able to get mail at most campgrounds, and wouldn't be at one for more than one day). Their answer was that was the only solution. So, I took a chance & drove 30 miles in NY without a current sticker, hoping that if I got stopped, the cop would be understanding. No problems with the inspections, and I had a good time talking with the guy that cashed me out about traveling.
After that I headed a bit south to the Hidden Valley Camping Area for the night. $30.60 with the Good Sam discount for water & electric. Like the recent sites, on grass, but with a row of pine trees providing shade.
As usual lately, the only photo is that of the campsite: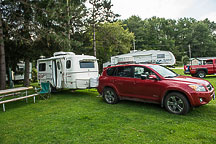 Site 552, Hidden Valley Camping Area
Dinner will be a couple of cheese brats.
Until tomorrow.
---
This page is maintained by: vermilye@oswego.edu
Last Update: August 7, 2014