Since I prefer to limit my traveling to around 200 miles per day (actually, I prefer 150), I looked for an open campground half way to Chocorua. Most are still closed - here in the northeast Memorial day is the usual opening day. The Broken Wheel Campground opened last week, so here I am. I'm is site 28 (I think - the signs are a bit confusing), a water & electric site on grass for $32.50 per night. Very clean bathrooms a bit of a walk from the trailer. They also have a large rec room, complete with a book trading library. A big difference from last year- today is is 72°F, last year it was in the low 50's.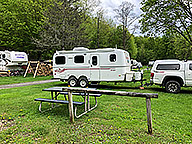 Site 28
I had washed & waxed the trailer yesterday (it needed it after the long trip ), so, of course, it rained much of the way here. Both the truck & trailer are covered with road mud. I can barely see out of the back windows (it doesn't help the back up camera on the trailer either!
The rain stopped as I arrived at the campground, so I got a photo without getting wet. Anne & Guido are on their way from Albany, and expect to arrive around 5:00, providing the rain doesn't get in the way. It is lightly raining here, but there are serious thunderstorms with tornado warnings to the south. They worst area is south of I 90, so I hope it won't be a problem for them. Still, looking at my weather radar app, it looks like it is going to rain for awhile, so we may be eating dinner in the 21. Good time to try out the new table, and Lagun support. Right now I have it folded to the 14" wide set up (still the full 39" width), and lowered to good typing height. I have discovered that with the laptop on the extreme end of the long direction, there is a little shaking when typing. Not as solid as the Springfield pedestal, but much more flexible.
I'll add more after Anne & Guido get here.
Later - They arrived in the rain and are in site 27.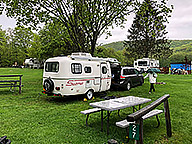 Site 27
Dinner was chili & applesauce (supplied from Anne & Guido's freezer).
---