---
Trip to New Hampshire & The 3rd Annual Spring Fling May 14, 2019

All photographs Copyright © 2019 Jon R. Vermilye
Jon Vermilye's Home Page
Other Pages:
RV Related Pages
Fiberglass Trailer Information
Other Rallies I've Attended
Day 1, Broken Wheel Campground, Petersburg, NY - 198.1 miles, 198.1 for the trip.
I returned from a 265 day trip to Canada, the Albuquerque Balloon Fiesta, and winter in the Arizona desert about 2 weeks ago. While I enjoyed staying in a full sized house, it is time to hit the road again. This is a much shorter trip (about a week) to the Chocorua KOA in Chocorua, NH. Around 30 or so fiberglass RVs will rally the 17th - 19th at the campground.
Since I prefer to limit my traveling to around 200 miles per day (actually, I prefer 150), I looked for an open campground half way to Chocorua. Most are still closed - here in the northeast Memorial day is the usual opening day. The Broken Wheel Campground opened a couple of days ago, so here I am. I'm is site 25 (I think - the signs are a bit confusing), level a water & electric site on grass for $32.50 per night. Very clean bathrooms a bit of a walk from the trailer. They also have a large rec room, complete with a book trading library. A big difference from last year- when we arrived in 2018, it was 72°F. This year is more like 2 years ago, rain & in the low 40's.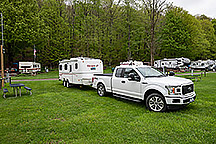 Site 25
Don & Anne, my traveling companions are on the road on the way from Binghamton, and plan to arrive around 5:00.
I had an interesting event this morning. I made my usual 4 cups of coffee, poured about 2 1/2 cups into my mug, and settled down to look at the morning's email
& check a couple of forums. Because the coffee was very hot, just small sips for the first couple of hits. It cooled enough that I could actually drink a mouthful, and just before swallowing, noticed something besides coffee in my mouth. I dug it out & it was a 1" diameter spider! Now there are a couple of things in nature that I don't really like, and spiders are one of them. I'm not quite an arachnophobe, in fact I enjoy photographing them & their webs, but still, it didn't make my morning. I've read that no matter where you are, there is one within 8' of you, but eating one is not at all acceptable. What is worse, there were only 5-6 legs left on it - I wonder where the other 2-3 went. The only good thing is it was dead. I suspect it was in my mug when I filled it, & the hot coffee cooked it.
Back to the trip. I left Oswego around 9:30AM, made a stop at a near by CAT scale to weigh the trailer, and a stop for gas & coffee in Clifton Park, NY (no spiders this time), and arrived at the campground around 2:45. No one home at the office, so I pulled into my usual section of the campground.
For those interested, the truck & trailer together weigh in at 10,640 pounds, the trailer 4700 pounds, and the tongue weight at 500 pounds.
I purchased a stinger with an extended shank, hoping it would let me lower the truck tailgate with the trailer connected. While it worked great when I tried it the other day, when I tried to attach the safety chains, they were too short. Back to the shorter shank stinger, at least for this trip.
Don & Anne arrived right on time.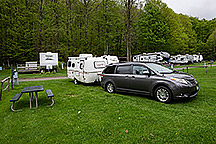 Site 24
We haven't thought much about dinner. I have some asparagus, maybe if the rain stays to the gentle mist we are currently seeing, we will have it along with Bubba Burgers. Well, the rain picked up, so it is cold cut sandwiches, soup & asparagus.
---