2014 Trip Across the US & Canada
Day 146
2011 Trip across the US
2012 Trip across the US
Other Trips
Tuesday, March 4, 2014, Cottonwood Campground, Joshua Tree National Park, CA, Day 7 - 0 miles , 5461.2 For the Trip
Today's post isn't about Joshua Tree, but my new solar panel. I purchased a 160 Watt folding solar panel from Solar Blvd and spent the morning wiring it to the trailer system. While I will be adding a connector that feeds closer to the batteries when I get back to Oswego, I am currently using a 7 pin trailer connector and plugging the trailer cord into the panel. Because I want to keep the original cord that came with the panel, I added 15' of #10 landscaping low voltage wire to go between the panel wiring & the trailer connector. All in all, that puts the panels at the end of about 30' of #10 wire, far more than I'd like, but it is a temporary solution.
After wiring the system, I tested it using my inverter to make a pot of coffee. That puts a good load (around 55 amps) on the system. While brewing, the TM2025 battery monitor showed a 45 amp draw on the batteries, the Go Power meter (running the 95 watt built in panel) showed a 5.2 amp output, and my clamp on amp meter (there are no meters on the folding panel controller) showed 8.5 amps coming from the folding panel. Adding things together, that had 13.7 going in, and 45 coming out for a total of 58.7 amps, about what I'd expect. Since a couple of people asked for a review of the panel, I added a page with more photos and information: 160W Solar Blvd Folding Panel.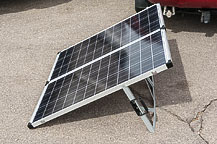 Dinner will be a turkey burger. I'll be heading out tomorrow.
Until tomorrow -
---
This page is maintained by: vermilye@oswego.edu
Last Update: March 5, 2014