2014 Trip Across the US & Canada
Day 300
2011 Trip across the US
2012 Trip across the US
Other Trips
Tuesday, August 5, 2014, Gotta Getaway RV Park, Bellevue, OH - 176.5 miles, 15,481.9 For the Trip
Another pretty much boring day. Sorry for the lack of interesting places & pictures lately, but since I'm in a hurry to get home to see my daughter, I'm pretty much skipping what might well be great stops. I spent almost all of today driving US 6, a much more enjoyable section of it than yesterday. I stopped for the day at the Gotta Getaway RV Park, Site 8, $31.50 with a Good Sam discount. A bit expensive for electric & water, but, like yesterday, a huge site on grass, although a bit closer to neighbors. They do have interesting names for the last two campgrounds, although I probably should have found out the history of the name for Starved Rock State Park!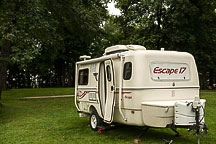 Site 8, Gotta Getaway RV Park, Bellevue, OH
After setting up the trailer I drove to Kasper Toyota in Sandusky for an oil change & tire rotation. Hard to believe I've put another 5000 miles on the RAV4! While the trailer has been pulled 15,481.9 miles so far on this trip, the RAV4 has done 22,385 miles since leaving Oswego in October.
I stopped at a roadside stand for fresh corn on the cob, and the owner wouldn't let me pay for one ear. Back at the campground I took a walk around the place. One interesting thing - the pool & showers are heated with an outdoor wood burning boiler. Probably makes a lot of sense, and with all the campfires, the extra smoke wouldn't be noticed. I spent the rest of the afternoon reading.
Dinner will be a pork chop, and, of course, a grilled ear of corn.
Until tomorrow.
---
This page is maintained by: vermilye@oswego.edu
Last Update: August 6, 2014