2014 Trip Across the US & Canada
Day 299
2011 Trip across the US
2012 Trip across the US
Other Trips
Monday, August 4, 2014, Pla-Mor Campground, Bremen, IN- 162 miles, 15,305.4 For the Trip
After a very pleasant night, I was back on I 80, US 6 & US 30 heading East. I really dislike the Chicago area; far too busy for me. I thought I would be more comfortable avoiding interstate 80 & take US 30 to get around the city area, but US 30 goes through Joliet, IL, which, while not Chicago, is a big city with terrible roads. Eventually, I was back in corn fields, although still mostly suburbs. I crossed into the Eastern Time Zone, so I no longer have to be sure I'm not calling friends & my son in the middle of the night!
I stopped for the day at the Pla-Mor Campground in Breman, Indiana. The campground is just off US 6 although my site is far enough away that the traffic noise isn't too bad. I'm in site 432, a Water & Electric site for $26.75. Huge open grass site with one other trailer near by.
No photos for the day other than that of the campsite.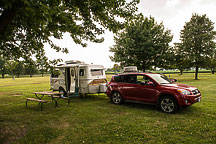 Site 432, Pla-Mor Campground, Bremen, IN
Dinner will be a salad.
Until tomorrow.
---
This page is maintained by: vermilye@oswego.edu
Last Update: August 5, 2014