2015 - 2016 Southwest Trip
Day 9
2011 Trip across the US
2012 Trip across the US
2014 Trip across the US
2015 Trip to Alaska
Other Trips
Thursday, October 22, 2015, Meeman-Shelby Forest State Park, TN, 246.1 Miles, 1445 Miles for the Trip
Boy, Tennessee is a long state, at least east to west. This is the first time I've driven the length of it; I usually cross in a north to south direction. I'm neat Memphis, and just about done with I40. The plan is to set the GPS for no highways & take my time along US 79 to US 82 into Texas. I'm not sure how far I'll get, but I'm far enough south that I hope the freezing nights are over for awhile.
I'm in the Meeman-Shelby Forest State Park northeast of Memphis, site 21. The sites are paved, all have picnic tables, grills (no fires - a fire ban is current) and lots of leaves on the ground. A very quiet park (although there a bit of air traffic, probably because of the nearby navy support base). An Electric & water site for $16.39, again with Tennessee's 25% senior discount. By the way, after November 1st, the senior discount becomes 50%. Quite a deal, particularly since it applies to out-of-state travelers. The restrooms & showers are better than those at Cedars of Lebanon, but not as nice as the individual bathrooms at Panther Creek. Still, a nice, clean hot shower. By the way, if you are heading for this park, don't rely on your Garmin GPS. It takes you on the long, curvy way into the park. Call for better directions.
While all of the Tennessee State Parks I've visited are very nice, quiet, rural locations, the last two didn't have usable Verizon cell coverage. While I see a 3G signal here a bit stronger than yesterday's, there is no data connection. There is also no AT&T coverage without an amplifier here at Meeman-Shelby. I guess that is what you get for a nice, quiet country location. I'll stop somewhere tomorrow to post this page.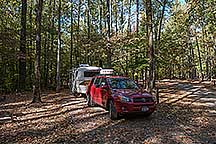 Site 21, Meeman-Shelby Forest State Park, TN
I had another big lunch - I discovered Buttermilk Fried Chicken Sandwiches at McDonalds, although the first one a couple of days ago was wonderful, today's was only fair. In any case, I'm still full from lunch, so it will be cheese & crackers a bit later.
Until next time -
---
This page is maintained by: vermilye@oswego.edu
Last Update: October 23, 2015