2015 - 2016 Southwest Trip
Day 8
2011 Trip across the US
2012 Trip across the US
2014 Trip across the US
2015 Trip to Alaska
Other Trips
Wednesday, October 21, 2015, Cedars of Lebanon State Park, TN, 221.1 Miles, 1198.9 Miles for the Trip
Another fairly boring drive along I 40. Some areas have pretty nice Fall color, but it was the interstate. The excitement for the day was a short backup at a single lane work zone on I40, and setting my clock back one hour. It is always nice to hop a time zone on the way west. Gives you the feeling that you are "getting there". I could have taken US 70 for some of the drive; in fact, I did for the end of the drive, but my GPS showed it taking far too long a drive to arrive during the afternoon. The original plan was to stay at Cedar Creek, an Army Corps of Engineers campground. It looked very nice, but unfortunately, it was closed for the season.
So I drove on to my second choice, Cedars of Lebanon State Park. While no problem for me with my tiny trailer, the trees make getting in & out of many of the sites difficult, or, in some cases, impossible. I feel a little guilty - the site they assigned to me would be easy for a large RV towing a vehicle. That is exactly was assigned to a site two down from me with a tree blocking both the entrance & exit. They were able to change to the one next to me that has a little more room, but my site didn't have a tree at the entrance of exit.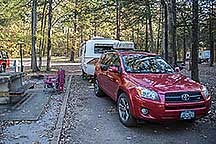 Site 34, Cedars of Lebanon State Park, TN
I doubt I'll be able to post this. Although the AT&T signal is fairly good, Verizon shows a -109db 4G/LTE signal, pretty much unusable, at least for posting photos or pages.
Dinner will be a couple of chicken thighs and snap peas.
Until next time -
---
This page is maintained by: vermilye@oswego.edu
Last Update: October 22, 2015