2015 - 2016 Southwest Trip
Day 112
2011 Trip across the US
2012 Trip across the US
2014 Trip across the US
2015 Trip to Alaska
Other Trips
Tuesday, February 2, 2016, Dome Rock BLM Area, Quartzsite, AZ, Day 2, 0 Miles, 4,057.9 Miles for the Trip
No rain & the wind died down to normal overnight. Very cool morning at 37°F and it only warmed up to 55°F during the day. I made a pot of coffee for the first time in weeks - a bit of a long walk to the 76 gas station from here! Plenty of sun to replace the extra amp hours it used to make the coffee & I have to admit, better tasting coffee.
While I was sitting outside 3 Olivers & a Casita wandered into the campground. After exploring the hilltop & other areas, they settled into the area east of me. A nice group of people from the southeast.
I took a break and walked to one of the mountains (well, actually I'd have to call it a hill) to take a photo of the almost empty camping area. I hope to get a chance to do the same on Saturday of the rally to show a full camping area. Don't click on the large link unless you have lots of data & a fast connection - it is around 13.2MB.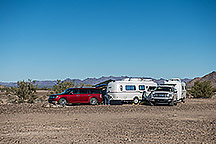 Olivers & a Casita
By the time I got back it was journal time & dinner. Since I had a large lunch, I'm just having cheese & crackers for dinner.
Until tomorrow -
---
This page is maintained by: vermilye@oswego.edu
Last Update: February 3, 2016