2015 - 2016 Southwest Trip
Day 136
2011 Trip across the US
2012 Trip across the US
2014 Trip across the US
2015 Trip to Alaska
Other Trips
Friday, February 26, 2016, Valley Vista RV Resort, Benson, AZ, Day 3, Tombstone & Bisbee, 0 Miles, 4,422.2 Miles for the Trip
After breakfast and a stop at the local Walmart to replace a deflated pillow, I decided to play tourist. The plan was to go to Bisbee, a town I skipped on the last trip through the area. Since AZ 80 goes through Tombstone, I really played tourist & stopped for a couple of photos. At least I didn't wait around for the shoot out at the OK Corral that is reenacted multiple times per day (although I did photograph it the last time through).
The Courthouse Museum hasn't changed in the 2 years since my last visit in 2013, but I took a few photos during this visit. I included one of a collection of photos of Cochise County Sheriffs - for the J. A. Jance's Joanna Brady fans, not a woman among them!
The Courthouse
Cochise County Sheriffs
Courthouse Exhibits
Courthouse Exhibits
Stagecoach Rides
After that it was on to Bisbee. The town is built onto the side of a hill so taking photos of some of the historic buildings was tough. I included a few, and a couple of panoramas. As usual, don't try to click on the large versions unless you have a fast connection & lots of data available.
The Copper Queen Hotel
Central School
Flowers
Doorway
Brewery (Now The Stock Exchange)
Interesting Graffiti
Pythian Castle
Check out the Door Handles
On the way back to Benson I stopped at a combination Monastery/RV Park outside of St David, a few miles south of Benson on AZ 80. I suspect The Holy Trinity Monastery is the source for the Monastery/RV Park that appears in some of J. A. Jance's novels. The RV Park sign is to the left in the photo. An unusual combination!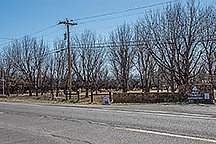 Monastery/RV Park Entrance
Dinner was the "All You Can Eat" Baked Cod dinner at the Galleano's Italian & American restaurant. Twp large pieces of excellent fish, scalloped potatoes, coleslaw, bread sticks, and a cup of clam chowder, all for $13.90 (including tax). Restaurants are far less expensive here in the southwest than at home. I'm being spoiled!
Until tomorrow -
---
This page is maintained by: vermilye@oswego.edu
Last Update: February 27, 2016