2015 - 2016 Southwest Trip
Day 154
2011 Trip across the US
2012 Trip across the US
2014 Trip across the US
2015 Trip to Alaska
Other Trips

Tuesday, March 15, 2016, Chisos Basin, Big Bend National Park, TX, 31.4 Miles, 5,109.7 Miles for the Trip
I don't think there are going to be any photos - the parking lot at the Chisos Basin Visitor Center is completely over run, as well as the park's WiFi. I did get one photo up loaded, but that was it. I'll try again later.
I got together with the bicyclists next door for a pu pu since all of us have been to Hawaii (a Hawaiian tradition I'm used to calling "Happy Hour"). Talked awhile before breaking for dinner. The burritos were good, although putting together the Dutch oven to do in 45 minutes what a microwave would do in 2 minutes makes me think that traveling without one wasn't a great idea!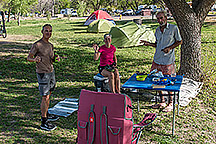 Po Po
I'm in site 44, a parking space along a fairly narrow campground road. I squeezed over as far as possible & hope I don't get sideswiped. The campground is full, as is the rest of them in the park. There was a couple of empty sites at Rio Grande Village Campground as I pulled out, but I suspect they filled quickly.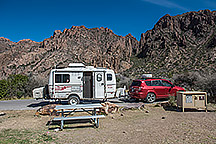 Site 44, Chisos Basin
Well, it is later. I decided to hike to the Window, a 3.6 mile round trip that feels like a 10 mile hike - on gravel & lots of stairs. I took a photo of what I thought was a lilac bush, but an observant blog reader IDed it as Texas Mountain Laurel. Thanks David! After returning, I read in the shade for a bit. As soon as I finish putting this together, I'll drive to the Visitor Center to try to post again.
| | | | |
| --- | --- | --- | --- |
| | | | |
| The Window | Along the Trail | Texas Mountain Laurel | Along the Trail |
| | | | |
| The Window | The Window | A Tree | Along the Trail |
| | | | |
| | | | |
Don't know about dinner, right now I'm too tired to eat!.
Until the next internet connection -
---
This page is maintained by: vermilye@oswego.edu
Last Update: March 16, 2016